Plants add vitality, color, and freshness to any area, but sometimes they need a little help to shine. Plant stands lift plants and add flare to your design.
Today, we'll be exploring the wonderful world of plant stands and how to select the perfect one for your precious potted friends. We'll discuss plant stands, materials, sizes, styles, and how to position your plant for the best impact.
By the end of this post, you'll know how to get more options and choose the right sort of indoor plant stand for your space and designs. Whether you're an experienced horticulturist or a budding plant parent.
Choosing the best indoor plant stand can elevate your interior design. Moreover it maximize your growing space, and provide a perfect environment for your flora to flourish.
So, let's delve into the art of best plant stand for indoors selection. Discover how these stylish and practical pieces can breathe new life into your home, one leafy level at a time!
How to Choose the Best Plant Stands for Indoors
When choosing the perfect plant stands or plant holders there are several factors to consider. Here are some of the most important ones:
Type of Plant Stand:
When looking for the best plant stand, it's also essential to consider the type of stand you're looking for. Plant stands come in various designs and sizes, each with advantages and disadvantages. Some things to keep in mind are the following:
Tiered Plant Stands: These are multi-level plant stands that can hold several plants at once. They come in assorted sizes, designs, and materials such as wood, metal, or wicker.

Hanging Plant Stands: These are suspended planters that hang from the ceiling or wall. They are great for small spaces or for adding a touch of greenery to any room. Hanging plants are also an excellent additional decoration for your balcony or patio.

Pedestal Plant Stands: These are tall, single level stands that elevate a plant off the ground. They are often used to display large potted plants, like a fiddle-leaf fig or a snake plant.

Corner Plant Stands: These are designed to fit into corners and maximize space. They come in assorted sizes and shapes, including triangular or hexagonal. This kind of plant stand is perfect for succulents or even for other decor or accessories.

Wall-Mounted Plant Stands: These are fixed to the wall and come in different designs and shelf options. They are great for small spaces and can create a stunning display. They can store small pots and are perfect for the bathroom.

Rolling Plant Stands: These stands have wheels on the bottom, which makes them easy to move around. They are ideal for outdoor use and can also be used indoors for mobility and flexibility.

Tabletop Plant Stands: Tabletop plant stands are compact structures. They are perfect for displaying small planters or pots in a small space or for adding a touch of greenery to a workspace or room. Ideally for indoor plants.
Material:
Wood, rattan, metal, iron, bamboo, and even porcelain are all viable options for plant stands. Think about how long each material will last, how much upkeep it will require, and how it will look in your chosen location.
Size:
Choosing the best plant stand necessitates paying attention to size. Consider the plant's size, the available space, the room's design, the stand's height, and the pot's capacity. Choose a plant display that also works with your interior design, it's important to pick a plant stand that's just the appropriate size.
Style:
Style matters when picking a plant stand. Consider the plant stand's material, color, design, and size to match your design and area. It should match your home's interior, and the plant's size should fit the area.
Consider a plant stand with a bottom shelf for practicality. You can use the bottom shelf to store heavy pots. Consider these characteristics when choosing a plant stand that complements your house or office.
Weight capacity:
Plant stand weight capacity is crucial. Consider the plant's weight, especially for large plants or huge pots. Check the stand's material and design, and the manufacturer's weight restriction. To avoid tipping or breaking, use a plant stand with a weight capacity more than your plants expected weight.
Versatility:
Considering whether you will plant indoors or outside when picking a plant stand. Choose a sturdy plant stand made of metal, concrete, or treated wood for outdoor use. For indoor plant stand you can focus on aesthetics and mobility. Choose DIY plant stand so you can costumize and display it anywhere.
Cost
Cost matters when choosing a plant stand. Set a budget, and examine the stand's material, size, design, and upkeep to make an informed decision. Thus, you can find an idoor plant stand for sale that meets your needs and budget.
Benefits of Plant Stands
Plant stands and tables are specialized furniture designed to hold and display plants adding greenery in a dull space. They come in different shapes, sizes, materials, and styles. Aditionally DIY plant stand is a perfect home decor. You can customize according to your style.
Plant stand can provide several benefits, including:
Saves space:
If you have limited floor space, a plant stand is an excellent solution to maximize your vertical space. By stacking your plants, you can create a beautiful display without taking up much floor space. This is especially useful if you live in a small apartment or a house with limited outdoor space.
Provides air circulation:
A plant stand can improve air circulation around your plants, which is essential for their growth and health. By elevating your plants off the ground, you allow air to circulate around the plant, reducing the risk of fungal growth or other plant diseases.
Easy to move:
Plant stands are usually lightweight and easy to move, so you can rearrange your plants whenever desired. This is especially useful if you want to move your plants to different rooms, or if you need to clean your space.
Improves Plant Growth:
Elevating your plants on a stand can improve their growth by providing better access to light and airflow. This is especially useful if your plants require specific light or temperature conditions leading to healthier plant growth.
Protecting surfaces:
Plants can leave water stains, scratches, or soil residue on your floors and furniture. Using a plant stand can protect your surfaces from potential damage, as the stand will catch any water overflow or soil that may fall off the plant.
Enhances the Aesthetics:
Plants bring life and add beauty to any space. A plant stand can elevate their appearance. You create a focal point in your room, drawing attention to their beauty and adding dimension to the space.
Overall, using a plant stand can provide several benefits. This includes enhancing the aesthetics of your house or office, saving space, creating a focal point in any space and more.
Hardy Garden Curated Plant Stands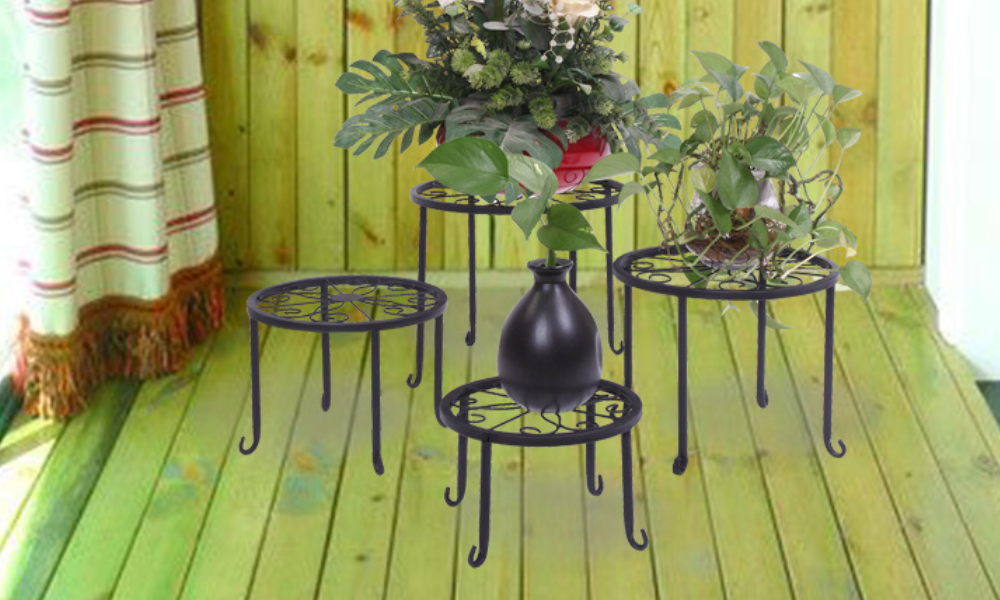 Elevate your indoor or outdoor space with this stunning collection of plant stands. The Metal Plant Stand is a sophisticated and stylish way to store and highlight your favorite potted plants in any space.
These elegant Round Plant Stands allow you to display your plants in style, creating an impressive showcase in any room. The same concepts can be applied to modest indoor plant stands, such as this contemporary display pedestal.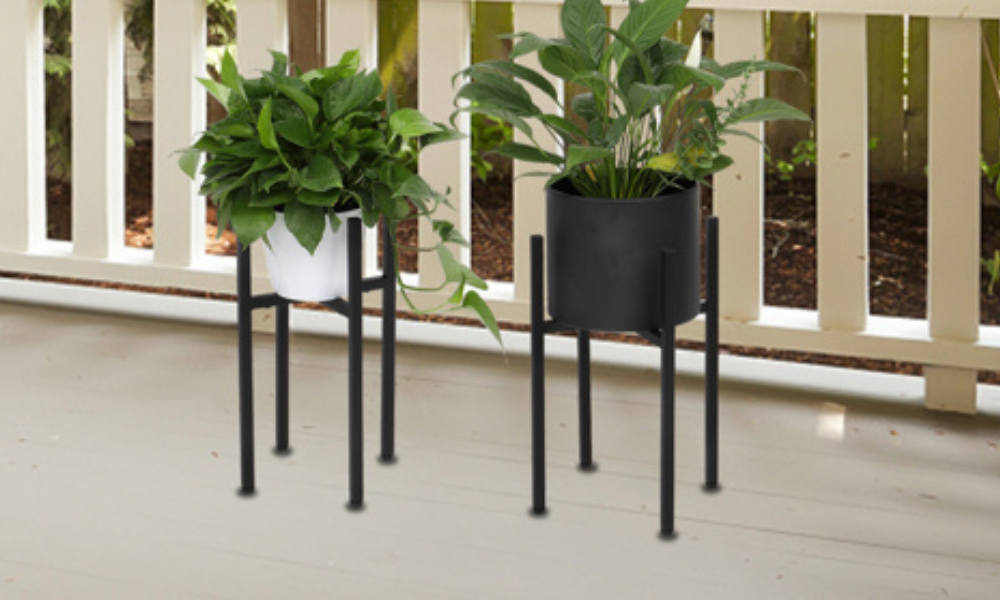 This Plant Stand Indoor lifts your plants off the ground and allows you to showcase them in a more prominent way in your indoor, covered patio, balcony, or outdoor space. The Metal Plant Stand -2 Pcs is crafted from high-quality metal. This sturdy and durable stand ensures your plants are always safely elevated off the ground.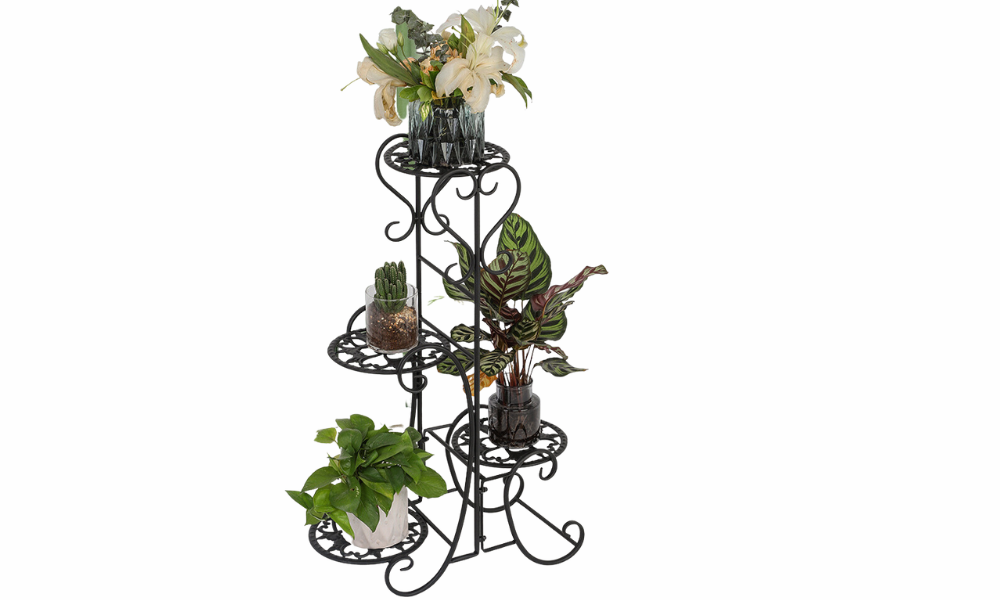 Enhance your indoor or outdoor space with this stylish 4-Tier Black Metal Plant Stand. Perfect for displaying plants and flowers. This Round Metal Plant Stand & Flower Rack adds a modern touch anywhere. The top shelf of this plant is durable until the base shelf allowing you to diplay your treasured plants. 

These 2pcs Heart Shaped Plant Stands blend functionality with elegant design. It is ideal for plant lovers and interior design enthusiasts. These are lovely home decor that can blend to any setting in your home.
Crafted from high-quality metal, these Flower Shelves are durable. These plant stands are built to withstand the test of time. The intricate heart-shaped design adds a touch of romance to any setting. The stand offers ample space to showcase your favorite plants, flowers, or other items.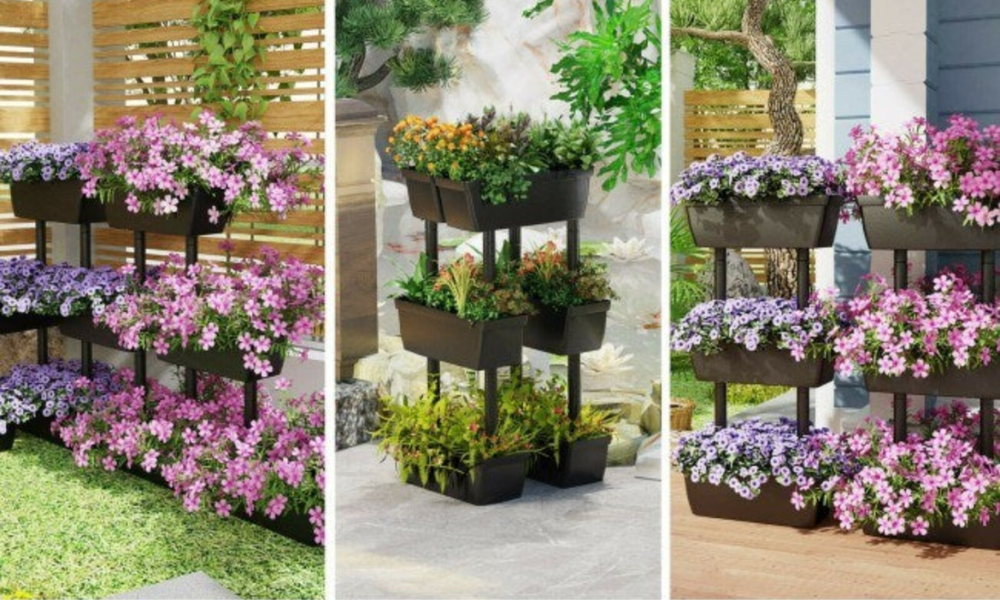 The versatile potted plant stands are perfect for highlighting a variety of plants in a compact space. Whether you have a large garden, patio, or a small balcony this DIY plant stand is a perfect.
With their durable construction and stylish design, our potted plant stands are sure to enhance the beauty of your space. You can buy more and create a DIY plant stand outdoor where you have more space.
Display your flora with this versatile 3 Tier Wooden Plant Stand. Made of high-quality wood, this stand is sturdy and durable. The plant stand with casters features spacious shelves to display your beautiful flowers. The casters make moving the planter easy, while the natural wood finish adds a touch of rustic charm to any dull place.
7. Folding Plant Stands with Trays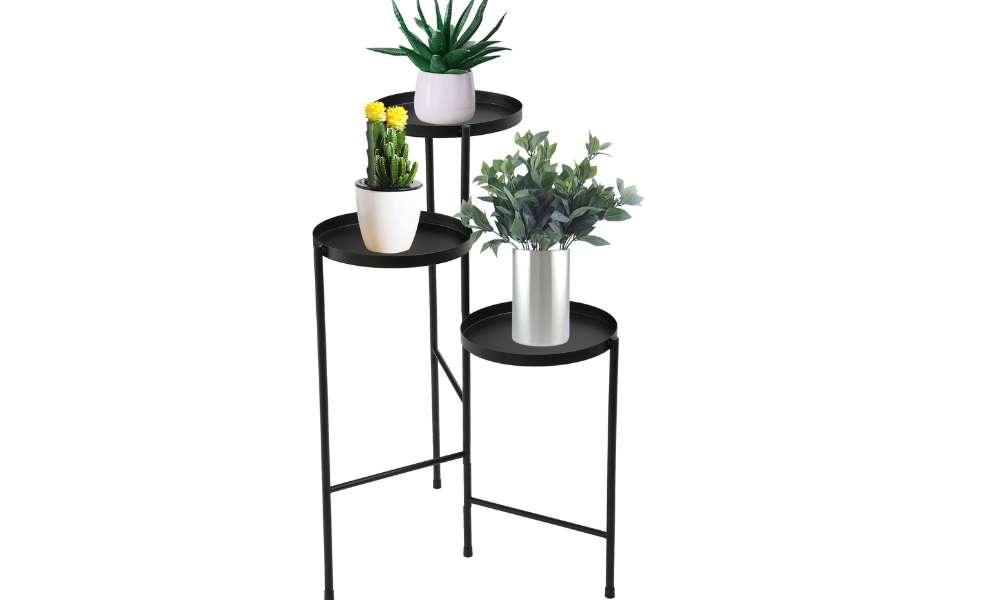 Elevate your plant display game with this versatile 3 Tier Folding Plant Stand with Trays. Made of high-quality metal, this stand is sturdy and durable, with three spacious shelves to hold your plants. The folding design makes it easy to store when not used, while the trays catch excess water or soil. This plant stand is a terrific addition to any plant lover's collection, perfect for indoor or outdoor use.
These are just a few curated plant stands perfect for indoor or outdoor plants. Ther are available stock in store at hardygarden.com. 
In conclusion, choosing the perfect plant stand is essential. You must consider size, material, design, functionality, and maintenance requirements. You can find a plant stand that meets your needs, enhances dull areas, and complements your plant.
Plant stand will raise your flora to new heights and offer beauty and design to any indoor or outdoor area. With wide varieties available, from tiered and hanging stands to corner and wall-mounted shelves. You will find a plant stand that suits your taste and preferences.
Check out the Hardy Garden collection of plant stand that you can use both indoors and outdoorsif you want a new plant stand. You'll find the perfect stand to complement your collection and enhance your home.